22 of our most helpful tips from 2022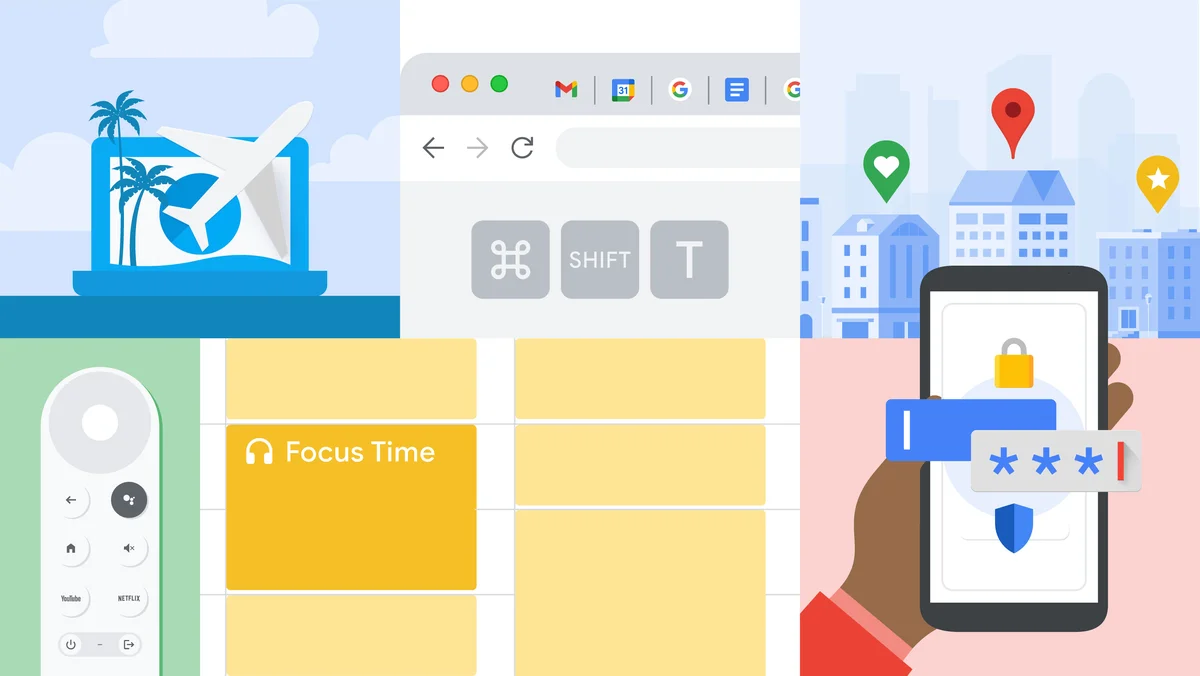 We blinked and — somehow — it's already December. Wasn't it just yesterday that we were making resolutions for the year? And what a year it's been. For many of us, 2022 meant further adjusting to what reality looks like since the COVID-19 pandemic began, like getting used to hybrid work and more regular travel. Throughout this adjustment, we've tapped in-house experts to see how Google products and features can help make life these days better and easier in ways both big and small. So, as a look back on the year, we've pulled together a list of tips from our most helpful stories of 2022. Whether you're planning a much-needed vacation or just trying to get a good night's sleep, here are some ideas that may help.
Plan a trip
This past June, search interest for "How to plan a trip" was the highest it's been in the past five years, according to Google Trends. And with these tips, the planning process might be almost as fun as the vacation itself.
1. Find cheaper airline tickets with price tracking on Google Flights. To find the best deal for your next trip, toggle on tracking for your destination and dates of travel, and we'll email you if prices change substantially. Or, if you're more flexible on when to travel, you can turn on tracking for "Any dates" to get notified of price drops for flights departing in the next three to six months.
2. Take a stroll on Street View to find hidden gems to visit on your next vacation. It's a great way to cure wanderlust from home, but it's also an effective way to plan a worthwhile trip, according to self-proclaimed "travel nerd" and staff writer Molly McHugh-Johnson, who used Google tools to plan a recent vacation to Italy.
3. Screenshot your boarding pass from your Pixel device to add it directly to your Google Wallet for easy access. And once you've saved your boarding pass, Google Wallet will notify you of delays and gate changes. As a bonus: You can also take a screenshot of your COVID-19 vaccine card from an Android device to add it to your Google Wallet.
4. Avoid crowds by checking the Popular Times and Live Busyness information on Google Maps. See how busy a place is right now, or how busy it tends to be on a given day and time, so you can use your vacation time wisely.
5. And don't heat or cool an empty house while you're gone by opting in to Home and Away routines on your Google Home app for Nest Thermostat. Using motion sensing and your phone's location, your Nest Thermostat can check when nobody's home and adjust the temperature accordingly. It's a quick Nest Thermostat set-up tip your energy bill will thank you for.
Work (and browse) smarter
For those of us getting used to hybrid work, there was a lot to (re)figure out when it came to transitioning productively to (yet another) new (er, maybe old?) working environment. If you're getting into the swing of a new routine or looking to increase your efficiency, here are some tips that can help you make the most of your workday.
6. Create a morning routine by saying "Hey Google, Good morning" to your Pixel phone or Google Assistant device. Assistant will create an automated rundown of everything you need to start your workday — like an overview of your calendar, a weather update and important news headlines — and you can always customize your routine in the Google Assistant settings on your phone.
7. If you're alternating between work environments, let people know where you are by setting your working location and working hours in your Google Calendar settings. When more people share their working locations and hours, it helps create more inclusive and collaborative hybrid meetings while reducing the logistical scheduling headache, especially if you work with people across other time zones.
8. Minimize distractions by scheduling Focus Time in your Google Calendar. Similar to the "Out of office" event type, Focus Time has a different appearance on your calendar (Focus Time is marked by 🎧) , and it includes the option to automatically decline conflicting events so you can optimize your work day for focus and productivity.
9. Make emailing smoother by using Undo Send to retract a message in Gmail. Email experts who weighed in on emailing skills and inbox management said people often wish they could unsend an email — and you can! You can even increase your cancellation period settings to last for up to 30 seconds post-send.
10. Spend less time worrying about lunch with live takeout and delivery status on Google Maps. If you're into getting takeout for lunch, you can see the expected wait time, delivery fee and status of your order right from the Google Maps app. It's a lot easier than worrying your lunch will arrive right in the middle of an afternoon meeting.
11. Chrome users can hit Control/Command + Shift + T to restore a recently closed browser window, and all of the tabs with it. Don't let an errant click or keystroke trigger an extinction-level event on your precious Chrome tabs.
12. Take a Security Checkup to make sure your security settings and passwords are in good shape. When you're browsing different sites, you probably end up creating a lot of new accounts and passwords that can be hard to keep track of. Security Checkup is a simple tool that will take you through a step-by-step process to customize your security controls and strengthen the safety of your Google Account. One of those steps is to use Google Password Manager, which will create and store strong passwords, auto-populate them in sites, ensure they're not entered into malicious sites, and alert you if they're compromised.
13. Stay safe and secure online with Gmail. The last thing anyone wants to do is deal with spammers and scammers, who aim to steal your online account information and money. And while we protect Gmail users from nearly 15 billion unwanted messages a day, it's always helpful to follow some guidelines for staying safe while going through your inbox, like looking out for fake "subscription renewals."
Tap into your creative side
Between the launch of a new album from a certain hive queen, a fourth season spent in the upside down and a new online game testing our knowledge of 5-letter words, this year saw so many cultural moments of creativity. Get in on the fun with these tips.
14. Take your landscape photos up a notch with your Pixel. With a level that appears on-screen in the Camera app, it's never been easier to avoid those slanted horizon lines in pictures. The level also shows up when you're taking an overhead photo of something, so you can center your subject even when your camera is pointed down. If you're eyeing a new phone, this is one of the delightful features one user fell in love with during her first 14 days with a Pixel.
15. Make your own illustration using Google Drawings. You can then import it into a Doc or slide, or save it in various file formats. Our Executive Productivity Advisor Laura Mae Martin also has a handy Google Drive tip for handling advanced images: Type drawing.new into your browser and then copy/paste, drag, upload or import your image file. You can then edit it, download it in any format and share the image like you would any other Drive file.
16. Get clever in the kitchen by pickling things you'd typically toss, like cantaloupe rinds. Finding ways to reduce food waste is something teams at Google have been thinking about for years. Chefs at Google shared tips and tricks for cutting back on food waste that the rest of us can adopt at home — including scrappy recipes straight from Google's kitchens!
17. Add a bit more magic around the house by changing your Nest Doorbell ringtone. When Nest Doorbell launched in 2018, then known as Nest Hello, we introduced a new take on the quintessential doorbell sound with a single chime. This year, we've added even more doorbell ringtones to our seasonal collection, with tones for Lunar New Year, Diwali, Oktoberfest and other global celebrations.
Reconnect and recharge
For some, that means spending time with friends and loved ones. Others may lean into the opportunity to do less and focus instead on taking care of themselves. And still others are somewhere in-between. Wherever you are on this spectrum, here are tips you can use to get through the rest of the year with as little stress as possible and recharge your batteries for 2023.
18. Find local spots to eat with family and friends by saying "Hey Google, restaurants near me" to an Assistant-enabled device. Landing on a place to eat can take a lot of research (and debate). Luckily, Google Assistant can help you plan by narrowing down your options. Then use that time you saved in better ways, like perfecting your technique for your family's annual gingerbread house decorating competition. (As the cherry gumdrop on top: Assistant can help with that, too. Just say "Hey Google, show me gingerbread house decorating videos on YouTube.")
19. Share your Google Photos Memories with others. This was our number one requested sharing feature in Google Photos. First, machine learning resurfaces your past photos and videos through the Memories carousel at the top of your Google Photos grid. When you see a Memory you'd like to share, just tap into it, and then select Share. Best of all, whoever you share it with can view and enjoy it as a story (just as it was originally presented to you) right from Google Photos on Android or iOS.
20. Gather round a virtual Chromecast fireplace with loved ones. You won't need to worry about playback being interrupted if you need to leave the house for a bit, or if you walk outside of your Wi-Fi coverage area. So the party inside can continue on your Chromecast device if you need to run to the store for more ice.
21. Cross off your gift-list with the Holiday 100. To make holiday shopping easier, scroll through 100 gift ideas and insights based on trending searches from 2022. And we've brought some of Google's most helpful shopping features to the Holiday 100 site, so once you've found something you like on the list, you can narrow down your search using filters like price range, on sale, material, color or near you. (Psst…we won't judge if you're scrolling for yourself.)
22. Type in "breathing exercise" to find a one-minute meditation on Search. When you need a break from the holiday bustle, the Meditation tool on Search can provide step-by-step instructions for a moment of R&R — plus, a good reminder to breathe.